Work from home. Strengthen a team.
The studio has only been working remotely for a bit less than three weeks but – I am sure that many people feel this – it is kind of hard to remember the time before this pandemic.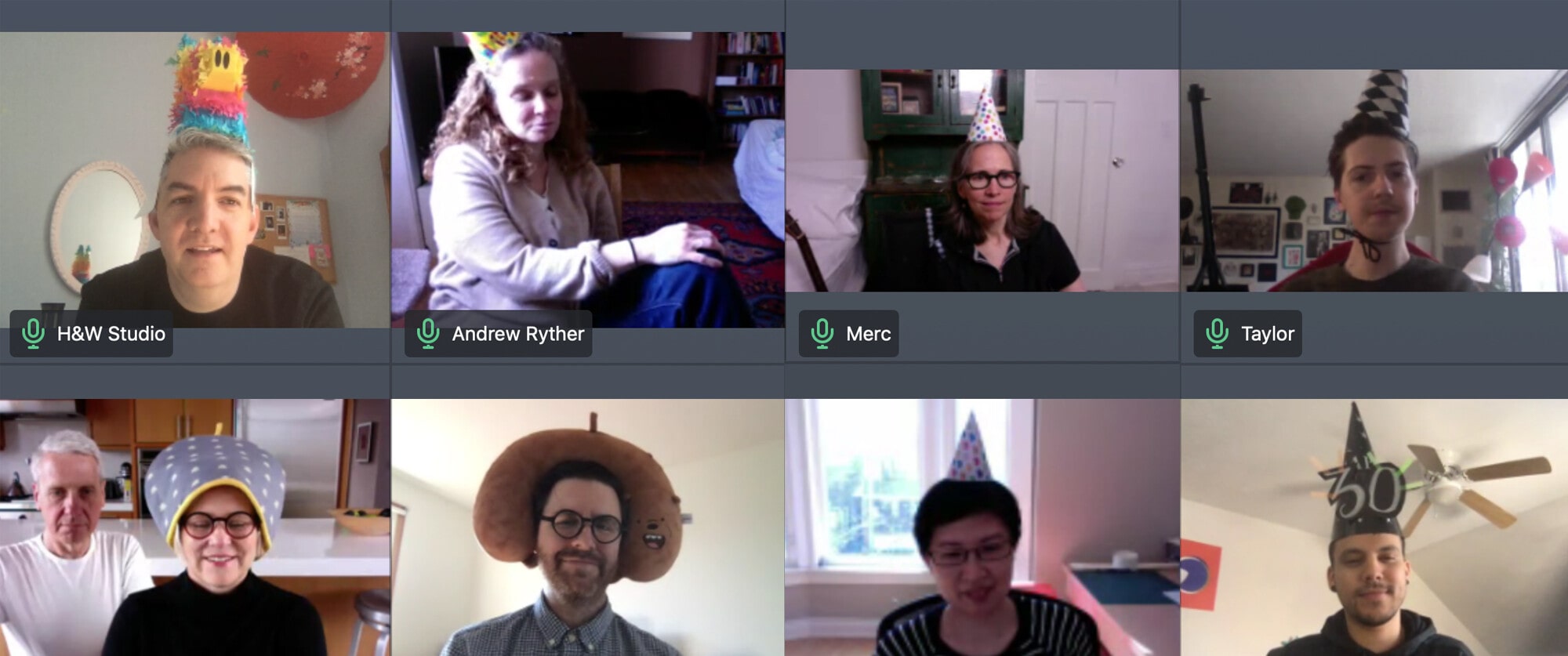 I would like to start by saying that in these uncertain times it is important to make sure that we are looking after ourselves, our family and friends. We are running the studio, but our first priority is our team's wellbeing.

As an industry and a community, I feel that design and designers are already accustomed to working in remote situations. That could be coffee shops doing sketches, could be in your own place writing, or could be sitting at a park bench just taking in the surrounding atmosphere. This all helps the creative process. Now that we are expected to work from our separate corners it was actually quite easy for our team to be able to get up and running. Interestingly, our experience is that our clients have adapted very well too. This situation I think has highlighted how social, accepting and flexible we can be with each other when the boundary of distance is put in front of us.

I have also noticed that our team is talking to each other way more than we did when we are all together. I don't mean that to sound like we were a dysfunctional family. When we are around each other all day we take each other for granted. I knew for a fact that I could always find Frances 11 feet away to ask for a colour opinion. Hesh would always walk by my office at 10:30ish to make his breakfast. I could just shout a question to Andrew. Dany, the office dog, would generally get fidgety mid-afternoon. I miss all of this and it would be impossible to recreate that online, but I have been thinking of ways to add that levity back into our day-to-day. Here are three ways I have tried to add connection back into these odd times:

1. Connect often. When we were in the office a weekly status meeting would generally cover our progress and workload. With the space between us we are finding that we have to touch base as a group at least three times a week, and more with separate teams. Is has been great. It is nice to make sure we see each other's faces, but it also helps to keep a regular schedule.

2. Make every other call about something other than the studio. It has been nice to check in with our designers about what is inspiring them, giving them hope at this time. What movies or shows they are watching, what books they are reading, and how they are able to get fresh air into their lives. One of the truths of designers is generally they love many other things beyond their work, and that adds to the depth of the client projects we create.

3. The camera on your computer opens up worlds of fun. I have had to take video calls in my daughter's room so that my voice doesn't clash with my partner's calls. I discovered that Kate's collection of Harry Potter Lego mini figures gives me a world of identities. I have appeared at meetings as Hagrid, Harry and Sir Nicholas de Mimsy Porpington. Also, try wearing hats…

To our clients, partners and friends: I hope you stay safe. Please listen to the recommendation of staying inside. There will be an end to this, and we hope that we will all be around each other soon.